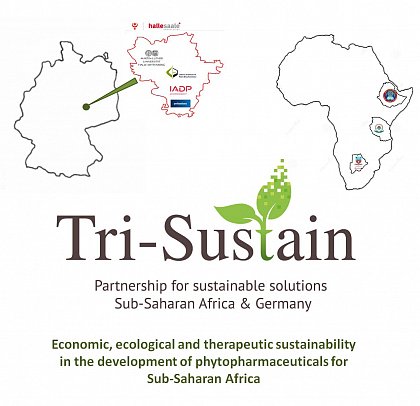 PROJECT OBJECTIVES
The aim of the TRI‐SUSTAIN project is to develop a novel three‐pronged integrated approach towards the goals of bioeconomic value‐chains, ecological and therapeutic sustainability, accompanied by a Graduate School.
---
LATEST NEWS
October 2020: New publication in the Journal of Pharmaceutical and Biomedical Analysis
Admassu Assen Aden, PhD student of Addis Ababa University under
Profs. Tsige Gebre-Mariam and Reinhard Neubert and supported by Trisustain, is the first author of a comprehensive original publication on plant-derived ceramides (CERs). The publication appeared in the Journal of Pharmaceutical and Biomedical Analysis.
Its results deliver on a major goal of Trisustain, viz. economical and sustainable provision of African plant-derived pharmaceutical excipients. Ceramides play a major role in skin barrier function. Replacement of depleted skin CERs, due to skin disorder or aging, has beneficial effects in improving skin barrier function and skin hydration. Though plants are a reliable source of CERs, the absence of economical and effective methods of hydrolysis to convert the dominant plant sphingolipids, glucosylceramides (GlcCERs), into CERs remains a challenge. Admassu et al. found alternative GlcCERs sources and a chemical method of hydrolysis to provide plant-derived CERs for dermal application. They isolated GlcCERs from lupin beans (Lupinus albus), mung beans (Vigna radiate) and naked barley (Hordium vulgare), followed by mild acid hydrolysis after treating the GlcCERS with an oxidizing and reducing agent consecutively. The method is economical and effective which potentiates the commercialization of plantCERs for dermal application.
https://doi.org/10.1016/j.jpba.2020.113677
August 2020: JBC paper on natural product for new strategy to clear the AIDS virus from infected people
Prof. Dr. Kerstin Andrä-Marobela (University of Botswana) and Prof. Dr. Peter Imming with graduates Ruth Feilcke and Simone Wappler (Martin Luther University) were partners of the research team who published the paper "The African natural product knipholone anthrone and its analogue anthralin (dithranol) enhance HIV-1 latency reversal" in
"The Journal of Biological Chemistry".
A sterilizing or functional cure for AIDS is currently precluded by the fact that certain cells of the immune system harbour a latent but replication-competent proviral stage of HIV. The article describes the discovery that knipholone anthrone, isolated from Ethiopian Kniphofia foliosa, and its basic building block, synthetic anthralin, have the potential to eliminate the provirus. They reversed viral latency at low micromolar concentrations in multiple cell lines. The discovery was made when 216 compounds from the pan-African Natural Products Library (pANPL) were screened. Knipholone anthrone and anthralin enhance the activity of "shock-and-kill" agents, which in turn may inform ongoing latency-reversal agent (LRA) combination therapy efforts. "Shock-and-kill" is an experimental approach, aiming at the reactivation of provirus expression in the presence of antiretroviral therapy. Before, no effective LRA was known.
https://www.jbc.org/content/early/2020/08/11/jbc.RA120.013031.1.full.pdf
---
PROJECT PARTNERS








---
PUBLICATIONS
---
LINKS
---
FUNDED BY

---

---
---