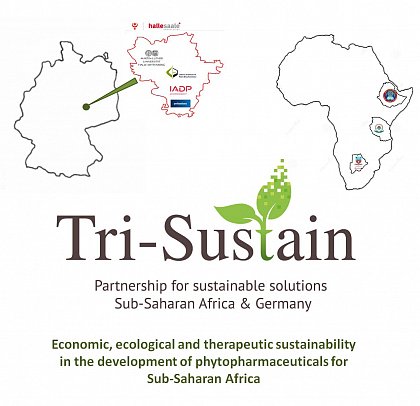 PROJECT OBJECTIVES
The aim of the TRI‐SUSTAIN project is to develop a novel three‐pronged integrated approach towards the goals of bioeconomic value‐chains, ecological and therapeutic sustainability, accompanied by a Graduate School.
---
LATEST NEWS
November 2019: Alphonce Ignace Marealle arrives at the Department of Biological Science, University of Botswana for a seven weeks research stay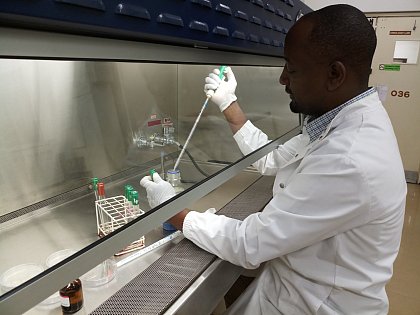 Alphonce in laboratory of the Department of Biological Sciences, University of Botswana (Source: Katlego Makale)
Alphonce Ignace Marealle is a PhD student at the Muhimbili University of Health and Allied Science, Tanzania. At the University of Botswana Alphonce will test extracts from selected Tanzanian medicinal plants for their anti-HIV activity under the supervision of Prof. Dr. Kerstin Andrae-Marobela. In addition, Alphonce will screen the plant extracts for antimycobacterial activity using Mycobacterium aurum as a model for Mycobacterium tuberculosis - the most common cause of death of people living with HIV/AIDS.
---
PROJECT PARTNERS








---
PUBLICATIONS
Ghislain Wabo Fotso, Linda Mogue Kamdem, Mthandazo Dube, Serge Alain Fobofou, Albert Ndjie Ebene, Bonaventure Tchaleu Ngadjui: Antimicrobial secondary metabolites from the stem barks and leaves of Monotes kerstingii Gilg (Dipterocarpaceae). Fitoterapia 137 (2019) 104239.
Ruth Feilcke, Georgette Arnouk, Boingotlo Raphane, Khumoekae Richard, Ian Tietjen, Kerstin Andrae-Marobela, Frank Erdmann, Susanne Schipper, Katja Becker, Norbert Arnold, Andrej Frolov, Norbert Reiling, Peter Imming, Serge A.T. Fobofou: Biological activity and stability analyses of knipholone anthrone, a phenyl anthraquinone derivative isolated from Kniphophia foliosa Hochst. Journal of Pharmaceutical and Biomedical Analysis 174 (2019) 277-285.
Serge A.T. Fobofou, Kaleab Asres, Norbert Arnold, Peter Imming: New source report: Chemical constituents of Hypericum quartinianum (Hypericeae), a sub-Saharan African plant species. Biochemical Systematic and Ecology 85 (2019) 46-49.
Efrem N. Tessema, Reinhard Neubert, Serge A. T. Fobofou, Tsige Gebre-Mariam, Jürgen Schmidt, Katrin Franke, Norbert Arnold: Anthelmintic activity-guided fractionation and GC-MS analysis of extracts from Embelia schimperi fruits. International Journal of Applied Research in Natural Products 11 (2018) 11-16.
---
THESES COMPLETED
Anika Lins: "The antimycobacterial effect of benzothiazinones and their analogues against Mycobacterium aurum and structure-activity
relationships of the compounds" Diploma Thesis (Pharmacy) Halle 2019.
Examiners: Prof. Dr. Peter Imming, MLU Halle, Prof. Dr. Kerstin
Andrä-Marobela, University of Botswana.
Simone Wappler: "Knipholonanthrone derivatives: Synthetic access and pharmacological activity." Diploma Thesis (Pharmacy) Halle 2019.
Examiners: Prof. Dr. Peter Imming, PD Dr. Matthias Schmidt, MLU Halle, Prof. Dr. Kerstin Andrä-Marobela, University of Botswana.
---
LINKS
---
FUNDED BY

---

---
---