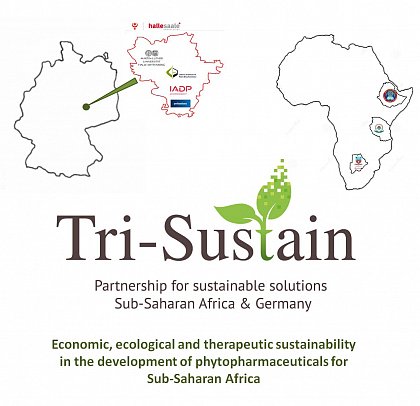 PROJECT OBJECTIVES
The aim of the TRI‐SUSTAIN project is to develop a novel three‐pronged integrated approach towards the goals of bioeconomic value‐chains, ecological and therapeutic sustainability, accompanied by a Graduate School.
---
LATEST NEWS
June 2021: Visiting PhD students from Ethiopia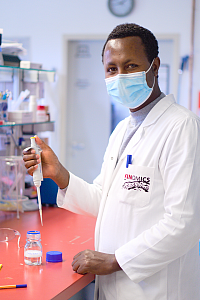 Mr. Admassu Assen Adem, PhD student, arrived at MLU's IADP on 07 June for his three-month research stay. Admassu is working on the formulation of nanogels and nanoemulsion gels loaded with phytoceramides extracted from lupine seeds. During his stay, the formulations will be tested for release and penetration.
---
June 2021: New Scientific Publication
Birhanu Nigusse Kahsay, PhD student sponsored by Addis Ababa University (AAU), has recently published an article entitled "Free amino acid contents of selected Ethiopian plant and fungi species: a search for alternative natural free amino acid sources for cosmeceutical applications" in Amino Acids. The study is a part of the project Phytosustain funded by German Academic Exchange Service (DAAD) and Federal Ministry of Education and Research (BMBF), Germany.
(https://doi.org/10.1007/s00726-021-03008-5 )
Free amino acids (FAAs), the major constituents of the natural moisturizing factor (NMF), are very important for maintaining the moisture balance of human skin and their deficiency results in dry skin conditions. There is a great interest in the identification and use of nature-based sources of these molecules for such cosmeceutical applications. The objective of the present study was, therefore, to investigate the FAA contents of selected Ethiopian plant and fungi species; and select the best sources so as to use them for the stated purpose. About 59 different plant species and oyster mushroom were included in the study and the concentrations of 27 FAAs were analyzed. Each sample was collected, lyophilized, extracted using aqueous solvent, derivatized with Fluorenylmethoxycarbonyl chloride (Fmoc-Cl) prior to solid-phase extraction and quantified using Liquid Chromatography Electrospray Ionization Tandem Mass Spectrometric (LC-ESI–MS/MS) system. All the 27 FAAs were detected in most of the samples. The dominant FAAs that are part of the NMF were found at sufficiently high concentration in the mushroom and some of the plants. This indicates that FAAs that could be included in the preparations for the management of dry skin condition can be obtained from a single natural resource and the use of these resources for the specified purpose have both economic and therapeutic advantage in addition to fulfilling customer needs.
---
PROJECT PARTNERS








---
PUBLICATIONS
---
LINKS
---
FUNDED BY

---

---
---