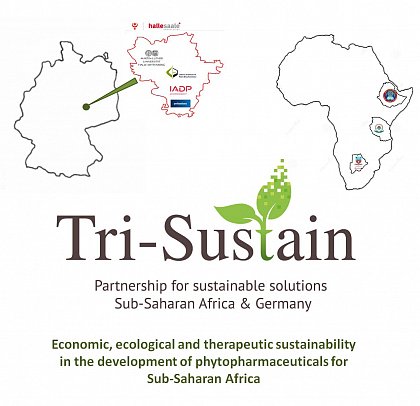 PROJECT OBJECTIVES
The aim of the TRI‐SUSTAIN project is to develop a novel three‐pronged integrated approach towards the goals of bioeconomic value‐chains, ecological and therapeutic sustainability, accompanied by a Graduate School.
---
LATEST NEWS
March 2022: New Publication in Plants
Ester Innocent, Alphonce Ignace Marealle, Peter Imming and Lucie Moeller from TRISUSTAIN published an article in Plants journal.
The review comprehensively covers and analyzes scientific information on plants used in Tanzanian traditional medicine against respiratory diseases. It covers ethnobotanical and ethnopharmacological information extracted from SciFinder, Google Scholar, and Reaxys as well as the literature collected at the Institute of Traditional Medicine in Dar-es-Salaam. Crude extracts and fractions of 133 plant species have literature reports on antimicrobial bioassays. Of these, 16 plant species had a minimum inhibitory activity of MIC ≤ 50 µg/mL. Structurally diverse compounds were reported for 49 plant species, of which 7 had constituents with MIC ≤ 5 µg/mL against various bacteria: Bryophyllum pinnatum (Lam.) Oken, Warburgia ugandensis Sprague, Diospyros mespiliformis Hochst. ex DC., Cassia abbreviata Oliv., Entada abyssinica A. Rich., Strychnos spinosa Lam., and Milicia excelsa (Welw.) C.C. Berg. The low number of antimicrobial active extracts and compounds suggests that antibacterial and antimycobacterial drug discovery needs to have a fresh look at ethnobotanical information, diverting from too reductionist an approach and better taking into account that the descriptions of symptoms and concepts of underlying diseases are different in traditional African and modern Western medicine. Nevertheless, some structurally diverse compounds found in anti-infective plants are highlighted in the review as worthy of detailed study and chemical modification.
https://www.mdpi.com/2223-7747/11/7/931/htm
---
December 2021: New Publication in Molecules
Betelhem Sirak, master student at AAU, has recently published an articel in Molecules jounal. The work was supported by PhytoWoodSynergies.
Leishmaniasis and schistosomiasis are neglected tropical diseases (NTDs) infecting the world's poorest populations. Effectiveness of the current antileishmanial and antischistosomal therapies are significantly declining, which calls for an urgent need of new effective and safe drugs. In Ethiopia fresh leaves of Ranunculus multifidus Forsk. are traditionally used for the treatment of various ailments including leishmaniasis and eradication of intestinal worms. In the current study, anemonin isolated from the fresh leaves of R. multifidus was assessed for its in vitro antileishmanial and antischistosomal activities. Anemonin was isolated from the hydro-distilled extract of the leaves of R. multifidus. Antileishmanial activity was assessed on clinical isolates of the promastigote and amastigote forms of Leishmania aethiopica and L. donovani clinical isolates. Resazurin reduction assay was used to determine antipromastigote activity, while macrophages were employed for antiamastigote and cytotoxicity assays. Antischistosomal assays were performed against adult Schistosoma mansoni and newly transformed schistosomules (NTS). Anemonin displayed significant antileishmanial activity with IC50 values of 1.33 nM and 1.58 nM against promastigotes and 1.24 nM and 1.91 nM against amastigotes of L. aethiopica and L. donovani, respectively. It also showed moderate activity against adult S. mansoni and NTS (49% activity against adult S. mansoni at 10 µM and 41% activity against NTS at 1 µM). The results obtained in this investigation indicate that anemonin has the potential to be used as a template for designing novel antileishmanial and antischistosomal pharmacophores.
https://doi.org/10.3390/molecules26247473
---
---
PROJECT PARTNERS








---
PUBLICATIONS
---
LINKS
---
FUNDED BY

---

---
---