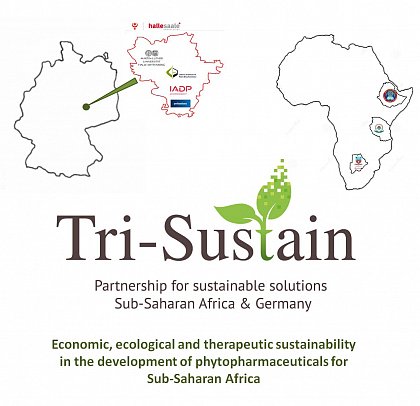 PROJECT OBJECTIVES
The aim of the TRI‐SUSTAIN project is to develop a novel three‐pronged integrated approach towards the goals of bioeconomic value‐chains, ecological and therapeutic sustainability, accompanied by a Graduate School.
---
LATEST NEWS
March 2020: Admasssu Assen is working on plant derived ceramides at IADP, Halle (Saale)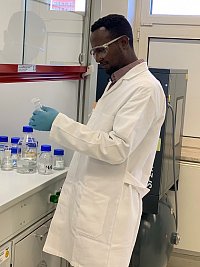 Admassu Assen at IADP in March 2020
Mr. Admassu Assen, PhD student, arrived on March 3 for his three months research stay at the Institute of Applied Dermatopharmacy (IADP/Skinomics), MLU. Admassu is working on plant derived ceramides extracted from Ethiopian plants intended for topical application. During his stay he will be working on developing optimized nanoemulgel formulation loaded with plant derived ceramides.
---
March 2020: Eyael Tewelde learns anthelmintic assays at IPB, Halle (Saale)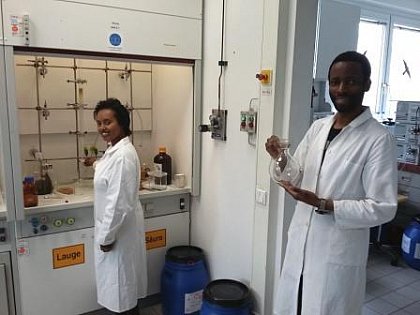 Eyael Tewelde (left) and Mthandazo Dube (right) working in an IPB lab
Ms. Eyael Tewelde Habtemariam is master student at Addis Ababa University, Ethiopia, working on the Wood Cluster project. In March, Eyael came to Halle (Saale) for her three-month research stay. She is working at the IPB under the direction of Mthandazo Dube, a PhD student in Tri-Sustain project. The aim of her work is to learn the anthelmintic assay to test the anthelmintic activities of Ethiopian medicinal plants.
---
PROJECT PARTNERS








---
PUBLICATIONS
Ghislain Wabo Fotso, Linda Mogue Kamdem, Mthandazo Dube, Serge Alain Fobofou, Albert Ndjie Ebene, Bonaventure Tchaleu Ngadjui: Antimicrobial secondary metabolites from the stem barks and leaves of Monotes kerstingii Gilg (Dipterocarpaceae). Fitoterapia 137 (2019) 104239.
Ruth Feilcke, Georgette Arnouk, Boingotlo Raphane, Khumoekae Richard, Ian Tietjen, Kerstin Andrae-Marobela, Frank Erdmann, Susanne Schipper, Katja Becker, Norbert Arnold, Andrej Frolov, Norbert Reiling, Peter Imming, Serge A.T. Fobofou: Biological activity and stability analyses of knipholone anthrone, a phenyl anthraquinone derivative isolated from Kniphophia foliosa Hochst. Journal of Pharmaceutical and Biomedical Analysis 174 (2019) 277-285.
Serge A.T. Fobofou, Kaleab Asres, Norbert Arnold, Peter Imming: New source report: Chemical constituents of Hypericum quartinianum (Hypericeae), a sub-Saharan African plant species. Biochemical Systematic and Ecology 85 (2019) 46-49.
Efrem N. Tessema, Reinhard Neubert, Serge A. T. Fobofou, Tsige Gebre-Mariam, Jürgen Schmidt, Katrin Franke, Norbert Arnold: Anthelmintic activity-guided fractionation and GC-MS analysis of extracts from Embelia schimperi fruits. International Journal of Applied Research in Natural Products 11 (2018) 11-16.
---
THESES COMPLETED
Anika Lins: "The antimycobacterial effect of benzothiazinones and their analogues against Mycobacterium aurum and structure-activity
relationships of the compounds" Diploma Thesis (Pharmacy) Halle 2019.
Examiners: Prof. Dr. Peter Imming, MLU Halle, Prof. Dr. Kerstin
Andrä-Marobela, University of Botswana.
Simone Wappler: "Knipholonanthrone derivatives: Synthetic access and pharmacological activity." Diploma Thesis (Pharmacy) Halle 2019.
Examiners: Prof. Dr. Peter Imming, PD Dr. Matthias Schmidt, MLU Halle, Prof. Dr. Kerstin Andrä-Marobela, University of Botswana.
---
LINKS
---
FUNDED BY

---

---
---